We wish you a warm welcome to our website !
Survivors Voice Europe is an international  organisation which has, at it's heart, the focus on empowerment of survivors of catholic clergy abuse. Our organisation was founded on October 31, 2010 by Sue Cox (GB) and Ton Leerschool (NL) on the occasion of the survivors event in Rome.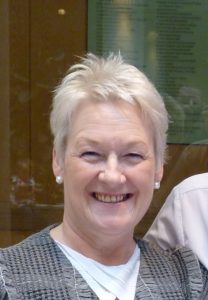 Sue Cox is an award winning therapist, teacher, author and activist  from Warwickshire UK a grandmother and mother of six and she is a Survivor of sexual abuse by a catholic priest.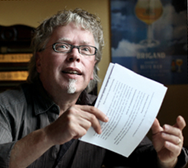 Ton Leerschool is a self-employed nature conservationist from Someren (NL) a long standing campaigner in the clergy abuse movement a father of three and he, also, is a Survivor of sexual abuse by a catholic priest.
If you want to get to know us better, go to the About Us page.
You will possibly have already realised that Survivors Voice Europe is different from the sites you may have visited: we ARE very  different. We are all survivors of catholic clergy abuse, who feel strongly about being SURVIVORS rather than VICTIMS.
We do not believe that the church can play a part in our healing, they are profoundly unskilled and have demonstrated time after time their indifference to our plight. We would not suggest you go to them for help. When you feel like all you want is a warm blanket wrapped around you as you emerge from your ordeal: you will not find it with the church! You will  at least be disappointed, probably frustrated , but you will certainly   burn a lot of time and energy and will not find healing there.
At Survivors Voice Europe we will stand with you and support you through the many changes you may encounter.
Here you will find a wealth of information, for the support of  survivors, their families, and anyone keen to learn how to help or grow. We add to it all the time, so we encourage you to come back often.
Our primary focus is on connecting, with each other, with like minded individuals and with those who share our passion.
We  know that in dealing with this enormous subject there is a great need for an "holistic" approach, so in our pages you will find helpful information about many things things from first realising you have been abused, to how to find or select a therapist, or a lawyer, what kind of questions to ask, how to be safe, answers to the questions you may have asked yourself.
Connect with those pages!
Recovery is a growing thing, a process rather than an event, and like all things growing it will take time and gentle nurturing.  From experience and expertise we have gathered tips to help you take care of yourself properly. Look at our  "Healing Tree" – simply pick the fruit you need there!



We know that often we have been isolated, either individually or in a community. We have found that we are stronger and more empowered when we are together, so we organise events around Europe where we can meet and share our strength. Try and be with us, we all need each other, and we are waiting to connect with you.
Activities
* Although we are not primarily focused on demonstrations or protests, having found them not to work too well, we will stand and be counted with others in solidarity when asked. Those connections are valuable to us also.
* We will raise public awareness of this subject whenever we can, creating more connections in the media and at conferences.
* We are holding seminars and workshops, designed to deepen understanding of the severity of the effects of childhood clergy abuse, and how that can be helped.
* We intend to host an annual retreat where survivors from all our member countries can find solace, comradeship and healing.
* We have created a forum where you can connect with us and each other,  post your own comments and tell us what is on your mind and please: use it often!
* We are gathering a mountain of articles, videos and comments from all over the World for us all to share.
* We are engaged in  several collaborative projects which are designed to make a real contribution to the larger cause, and require sponsorship:
* Neurosciencel research project – looking at the long term effects of childhood clergy abuse.
* Photographic memorial – Silvia Amodio's video  "Out of the Shadows" is a snapshot of her work, which we hope will be a pictorial monument to survivors. A book and an exposition to follow our events are other possibilities we are exploring.
* Book translation– there are some wonderful books about clerical abuse specifically in Italy, we want them translated to all our languages, so we can all benefit from their wisdom.
Your journey back to wholeness may have  just begun.
 It may be that you are only just emerging from your nightmare, or perhaps it  happened  a long time ago but still haunts you, but the fact is that you are here, NOW, alive, and along with other compassionate beings you can at last have hope and seek happiness.
The beginning of your recovery is today, you are here and it is NOW!
Here in these pages we want to focus just on you.
You are NOT alone any longer, and as you emerge from isolation into connectedness you are going to find a new world awaiting you, full of brave wonderful survivors, who want to share their stories, strength and hope with you.
We hope that being part of  Survivors Voice will help you become the person you were intended to be.
Our connections are our strength.
Sue Cox and Ton Leerschool
Survivors Voice Europe


Our mascot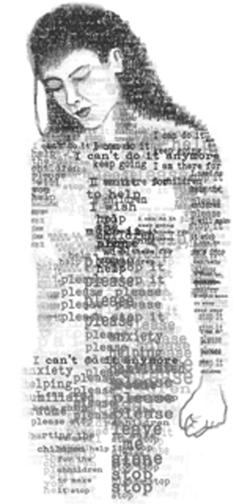 We are delighted to introduce you to our beautiful mascot!
She is called "bootstraps" and has been made for us by a marvellous disabled American artist Thea Maia.
I discovered this picture while looking for images to describe the ridiculous idea that you can "pull yourself up by your own bootstraps" ! Thea, as a disabled person, is used to such silly comments herself, and hence the dark lady was born!
This beautiful image is so pertinent to our lives, and she jumped right out of the screen at me!
I am constantly amazed at how these serendipitous discoveries happen!
I talked to Ton and he also said he thought it was "frighteningly beautiful" and so I got in touch with Thea to ask for her permission to use it. Not only did she give her permission, but she spent hours re-working it so it was easier to copy.
We are so grateful, and we think she is a perfect symbol for us. I have her pinned on my wall, she inspires me!
So download her. Pin her up on your wall to remind you of the struggle we have all had, and see her clenched fist and her VICTORY !!
With heartfelt thanks to you Thea.! X
With Love, Sue Cox
link to bigger image