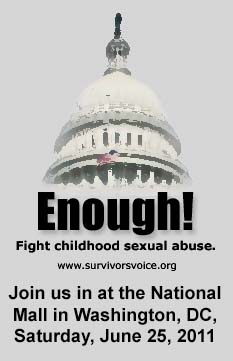 Open letter to Survivors Voice supporters:
After careful consideration we have decided to postpone the Washington DC Rally. Our commitment has been and will continue to keep this an open event at no cost to attendees.
The current funding of Survivors Voice Inc., combined with real costs associated with the logistics of this event will not allow us to proceed as planned in June. We realize the tough economic times that we all live in. We also realize the importance of the cause we are all involved in and the importance of making the Washington DC Event happen. We're going continue working to make it happen. We hope you will as well.
Thanks for your support & please stay tuned for a new date.
Bernie McDaid & Gary Bergeron