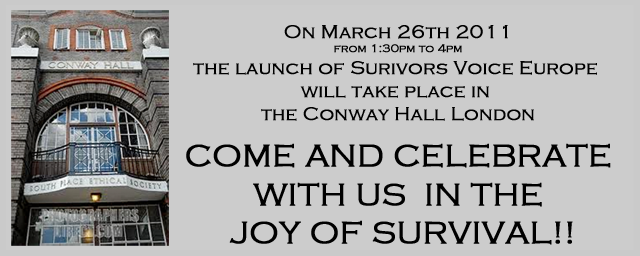 With much joy and excitement, and quite a few tears, (plus balloons and cupcakes!) we had a wonderful launch to Survivors Voice Europe on March 26th in the Conway Hall in London. Despite the huge competition on part at the of the much-heralded protests through the streets of London about Government cuts and some curious engineering works on many of the main tube lines, nothing deterred the Survivors Voice Europe team from going ahead with the launch of this new arm.
We welcomed people from several countries, and were overwhelmed with the support we received. There were also mountains of e-mails from those who were unable to get through London, and were disappointed not to have made it, promises to get to the next event abounded! These things are out of our control.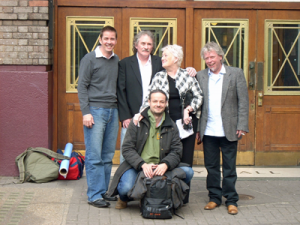 The afternoon was hosted by Sue Cox, from England, and Ton Leerschool from Holland, co-founders of SurvivorsVoice Europe.
Sue started the proceedings by showing a very powerful video of the Survivor Voice day in Rome last October, where ,especially after meeting the brave deaf and speech impaired survivors from Verona, we vowed to be a determined and irrepressible voice for survivor of clergy abuse everywhere. Sue's graphic description of that meeting, including the staged intrusion by Frederico Lombardi, (the papal spokesman) and a subsequent meeting with him beggared belief in it's hypocrisy. No one having seen the images of those damaged and neglected abuse survivors could have any doubts about the dire need to take down this tyrannical regime which allows such atrocities. It set the scene for the rest of the afternoon.
We had particularly called our day a "celebration" because on the day that we had met in Rome, it had coincided with the Chilean miners being freed form their ordeal, and brought up from the ground. There was such celebration! The whole World rejoiced in their survival, including us!, we were as delighted with the news.
But as we looked around our own gathering, and heard the most horrific stories of abuse and betrayal of innocent children, and as we heard how they had fought back, often being further abused in the process, we wondered who was celebrating their amazing recovery, indeed our survival after being hidden and buried for so long? So we decided that WE would! .
Nothing is more devastating to a child than the horror of sexual abuse by those who are supposed to protect them, and their survival is often against all the odds. That IS a thing to celebrate!
Ton was next to speak, who talked about the future role for Survivors Voice Europe, and our plans now that we are an International , high profile support organisation, which will also become an influential and persistent pressure group. He described how we would continue to fulfill our mission statement in many ways, and the theme of his presentation was that of "connections".
He explained in more detail the structure of the organisation, highlighted the resources available on the website, including therapeutic tools, forums, petitioning, and connection facilities with other like-minded organisations. He also explained about future events that will be co-ordinated via Survivors Voice Europe, not least in October a repeat of the incredibly successful Reformation Day in Rome.
We have, in six months managed to forge many alliances internationally, and we will continue to grow organically in that way. The exciting plans for creating an internet TV and radio link were met with great approval from all present, as was the plan to translate and help publish the very powerful books which show the corruption within the Catholic Church, at present only available in Italian.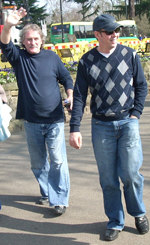 We were very honoured that the original founders of Survivors Voice, Bernie Mc Daid and Gary Bergeron, made the trip from the USA to be with us on the day. They each spoke very movingly, as always, of their own journey, having been the first Catholic clergy abuse survivors to go public in Boston ten years ago.
Gary told how he had been so ashamed and afraid when he knew that the story of his abuse was about to come out, that he told his story by letter to his family, then got on a plane and got as far away as he could. When he returned however, it was for his Father and brother to say that the same thing had happened to them! Gary says: as the survivor of clergy sexual abuse, as the brother of an abuse survivor and the son of an abuse survivor, he wanted to make really sure that he would never stand up anywhere and have to say he was the Father of an abused child.
After talking briefly about his own story, how when coming out publicly with it he feared that his business might suffer, which it inevitably did, but knowing that not talking about it would have meant that he would undoubtedly have died from alcohol and drug addiction, Bernie then called for the present Pope to resign immediately! He described how he had met him in 2003 when he told the pope he had a cancer in his church, and was promised change, which of course never occurred, of how he worries that this Pope is bringing forward the beatification of Pope John Paul II, disregarding the usual five year minimum rule, in a desperate attempt to stop any enquiry into John Paul II's dubious record, and thereby also stopping a look at Cardinal Ratzinger's activities during his predecessor's pontificate.
Sue and Ton were privileged to have the opportunity to pay particular tributes to both Bernie and Gary, presenting them with Gratitude Awards for their bravery in speaking out about their own abuse and bringing about the changes that set off the whole movement.
In accepting their awards, both Bernie and Gary spoke movingly about the routes that this work has taken them down. They explained that it is never easy to come to a point of recovery but that in sharing support, strength and care then sooner than we had ever hoped the Vatican will have no option but to pay heed. Often moved to tears and acknowledging that they continue to be a work in progress, they also profoundly pointed out that this kind of event is 'another little bit of healing'.
The church is responsible for wider abuses, ritualistic in nature and this was only too well highlighted when Dr. Tommaso Dell'Era of Italy, himself a clergy abuse survivor, spoke about his indoctrination as a child in Opus Dei. Collaborating with Emanuela Provera in a powerful and shocking booked called 'Inside Opus Dei', what was clear from Dr. Dell'Era's presentation was not only the cynical and cruel way that children are selected to become aspirants but the barbaric, archaic, secret practices, the breaking down of a person's psyche through fear and self-destruction labeled 'purification' and the breathtaking lengths that the Church and this part of it will go to prevent the wider public finding out the truth. He described what seems nothing less than 19th-century secret society. Potential members were identified around the age of 11, when their preparation started for admission as aspirants at 14. From this age, they were progressively isolated from their families, whose role was insidiously replaced by the organisation and a nominated father substitute who took down and preserved in meticulous detail the aspirant's personal thoughts. He said he was even required to transfer to an Opus Dei doctor, who, when he left the Order, refused to transfer his medical records. Despite denials, Opus Dei members still use a cilice (metal chain with barbs worn around the upper thigh for a couple of hours at a time) and knotted string to whip themselves. The aspirants are forbidden from taking the sadistic instruments home, or for discussing with their parents what happens within Opus Dei.Dr. Dell'Era displayed the celice that he had been forced to wear and the knotted string whip, a very brave and powerful thing for him to have done.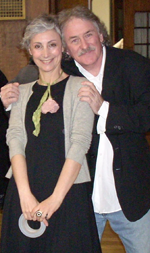 Silvia Amodio, photographer from Italy, was inspired to create a display of photographs of survivors with a small snippet of their stories. Published in Marie Claire Italia, her 'Out of the Shadows' pictures was a disquieting but real moment in the day – audience members were visibly distressed at the poignant images of survivors from across the world and more photographs are to be taken at forthcoming events, producing an unarguable account that the Vatican will be forced to look at – a way of them looking into the eyes of all survivors, not just those carefully selected by the Vatican press office for a secret meeting with Benedict Xvi. Silvia Amodio is a committed supporter of Survivors voice and the video of her beautiful work can be seen on this website.
Survivors Voice were delighted to welcome well known Human rights activist Peter Tatchell who tirelessly had been demonstrating all morning but still found time to come to Conway Hall to reiterate his point that childhood sexual abuse by the clergy, and the Church's covering up of those crimes, is a human rights infringement and this is is undeniable, and that pressure needs to continue to be brought to bear. Movingly he reminded the organisation not to give up hope or be disheartened in the work to come and he expressed his admiration for the bravery and solidarity that he had seen in the group, a factor that will give the strength needed.
We were touched by his integrity, support and commitment.
David Greenwood is a specialist child abuse lawyer. He told us all how he is absolutely convinced that the 100+ current abuse cases he is dealing with is really just the 'tip of the iceberg'. He explained that he never ceases to be amazed at the way the church finds ways to fight each individual person that reports this kind of abuse, and whilst he will continue to fight, he remains continually shocked at the depths of the sickness of these criminals and the machinations that ensure they are never brought to task. David is hopeful that Survivors Voice Europe will inspire strength in individuals who are too afraid to come forward and is working with the organisation to provide legal tips and advice and pointers for survivors who wish to pursue their case. He was keen to ensure that publicity for Survivors Voice Europe is high on the agenda to keep the work moving.
The last speaker of the day but certainly not least, was Keith Porteous Wood, Executive Director of the National Secular Society who was of the firm belief that identifying a specific day of focus for survivors was a powerful way of bringing more awareness to the issue, raising the public conscience and another tool in the battle that inevitably is to come. Keith explained that he continued to make interventions at the United Nations Human Rights Council, his most recent where he illustrated that the Catholic Church was now formally in breach of the Articles of the UN Convention of the Child and that this had been endorsed by Geoffrey Robertson QC. To everyone there this felt like the beginnings of a powerful process of change and indeed Keith explained that his intervention had already opened up talks about meeting the UN High Commission.
All of the team at Survivors Voice are of the same mind. "Change is coming and we have a window of opportunity here that needs to be utilized to prevent the Catholic church from covering up these travesties which still continue, to bring them into accountability and to give survivors a chance to regain the potential that was cruelly and cynically taken away from them'.
At the end of the day when all the wonderful cupcakes had been eaten and balloons displaying 'Enough!" in several languages, had been let into the sky, there was a sense of positivity, of excitement at the plans ahead, of solidarity in despair, of genuine human compassion and understanding amongst a band of determined survivors who intend to be heard, want others to be heard and will fight to help make the change that is long overdue.
Join us in Washington DC in June and again in Rome in October!
ENOUGH ! BASTA ! GENOEG ! ASSEZ ! LEOR ! BASTANTE !
Still want to print the flyer for the event? Click on the link below:
Conway Hall flyer