Below you find the project objectives from the project proposal. For the full documentation, please download the PDF version of the document: Project Proposal – Out of the Shadows v1.0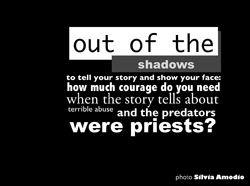 Objectives
Document the stories – build a memorial for the Survivors.
Many of the survivors who have come out with their stories in recent years are now coming to age. They have most of their lives behind them and their stories may not be forgotten! This ugly part of the world's history must be documented for the generations to come.
To know of their bravery and their fight for justice and of the wrong-doing and deceit of the roman catholic church hierarchy.
Build awareness.
Through the images (which tell stories by themselves) and the testimonies of the Survivors build awareness with the politicians, media, general public of the evil side of the catholic church. This is not fiction or a staged posing for an art photographer!
Silvia Amodio's pictures tell the story of our recent history of which the effects will be felt for many generations to come.
Look here for the first release of Sivia's video made in cooperation with the Libera Accademia D'Arte of Florence (Italy): Out of the shadows video
Maybe you also have ideas, projects that will make a difference, activities that will brighten up the lives of Survivors? Share them with us, fill out the form below and we will come back to you. If you like to give your comment on this project initiative, you can also leave a reaction below.
Thank you for your attention!
Sue Cox & Ton Leerschool