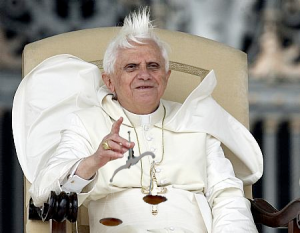 Message from Christian Sailer and Gert Hetzel, the two German lawyers who submitted the charges at the International Criminal Court in The Hague (NL).
Dear Friends and Supporters,
Many of you have become familiar with the criminal charges against Pope Joseph Ratzinger for crimes against humanity, which were submitted to the Prosecutor of the International Criminal Court in The Hague.
http://www.irishtimes.com/newspaper/world/2011/0223/1224290630240.html
http://www.unz.de/nc/aktuell/zur_sache/detail/zurueck/aktuell-2/artikel/heidenspass-statt-hoellenangst/
On our Internet site http://www.popeaccountability.org/ the possibility is now offered to read the charges in book form, to download it free of charge, or to order the book. Of particular importance to us is the fact that as many people as possible lend weight to the concerns of the charges through their support.
Under the heading "Do You Approve" on our website, we have made it possible to add your signature to this effort.
Click here to go to the "Do You Approve page
We would like to deliver as many signatures as possible to the Prosecutor at the International Criminal Court in The Hague. In the meantime, internationally well-known attorneys, who have represented hundreds of victims of child abuse, have directly contacted the Prosecutor at the ICC in support of our charges under the following adress:
To the Prosecutor
The International Criminal Court
Dr. Luis Moreno Ocampo
Maanweg, 174
NL-2516 AB Den Haag
File number: OTP-CR-48/11
We know that some people may consider this procedure to be symbolic. However, in contrast to many other courts of justice, the International Criminal Court in The Hague is not deterred in its prosecution of an offender even when the offender claims immunity as a "head of state." For this reason, there is a real chance that the Prosecutor at the ICC will initiate investigations against Joseph Ratzinger.
This chance will, of course, be greatly enhanced the more people express with their signatures the fact that the crimes of child abuse by Joseph Ratzinger's Catholic Church present a monumental problem worldwide and that it is their hope that investigations will be initiated against Joseph Ratzinger.
Please share this information and the websites with your friends and all concerned.
We are very grateful for your support.
Christian Sailer
Gert Hetzel