Both Sue and Ton participated on May 21 2011 at the 2nd national congres of clergy sexual abuse victims organised by La Colpa in Rome.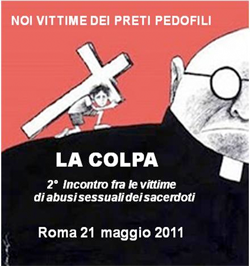 Some hundred Italian victims of childhood sexual abuse, amongst which the survivors of the deaf institute of Provola in Verona, came together to share their stories.
Further the meeting consisted of presentations from a number of experts in various related areas:
Dr. Ascanio Trentini – 'Psychological trauma of abuse'
Solicitor Sergio Cavaliere – 'Legal problems of clergy pedophilia'
Dr. Roberto Mirabile – President of 'La Caramella Buona (association against pedophilia)
MP Maurizio Turco – 'The Vatican against international law'
Giovanni Sarubbi – Editor of 'Il Dialogo' critical christian opinion magazine
In an emotional speech, memorising our first meeting at the same venue in October 2010, Sue Cox underlined Survivors Voice Europe's support for the Italian survivors in their fight for recognition.
After the meeting a march was held to the Italian parliament asking for the establishment of an independent investigative commission.